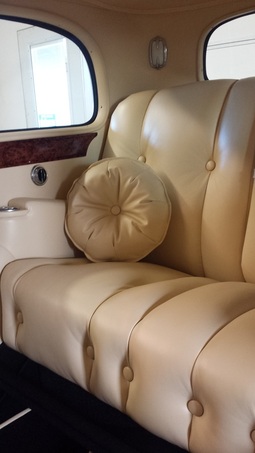 We have now completed the One-of-a-Kind, 100% Hand-Rolled, Button-Tufted Italian Leather interior for the rare 1934 Cadillac!

This Cadillac has been upgraded to become one stylish and elegant ride, with many accessories. Old World meets New World, as this classic vehicle also includes the following tech features: Two TV's, Front & Rear A/C Units, Auto-Interior Dimming, Auto-Loc, Auto-Start, Automatic Climate Control, Keyless Entry, Power Windows, Alarm System, Plug-n-Play Gaming System (for the kiddos), One-Inch Thick Daytona Weave Carpet with Sound Deadener, All ABS Interior Panel Fabrication & Construction, Leather Dash, Sentinel Headlight System, and a 1200 Watt Stereo System.

WOW!

We are including Before and After Shots to show you the Transformation....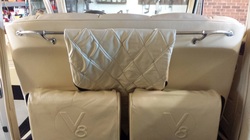 One of the Unique Features of this Custom Interior includes a Ladies Shawl...in Ultrasuede on one side, and Vanilla Italian Leather on the Other! This shawl was included for keeping warm on a cool Autumn cruise through the countryside...
We have truly enjoyed this build and hope you enjoyed following the transformation!