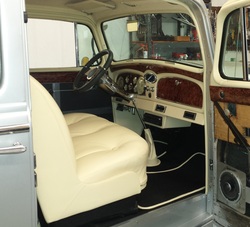 Good Monday to you all! Although the weather outside is frightful, inside our shop it is delightful....sorry.....already enjoying the Christmas music in Pro Auto Interiors and Tops....But the cold, Rainy weather is a damper. We are ready for SNOW!
Placement of the Front Bench Seat has been completed into the 1934 Cadillac, with a few finishing trim touches to add. Door panels have been designed and upholstery is beginning today. We are down the home stretch on this beauty and can't wait to show our customer and all of you the one-of-a-kind custom interior!
The pictures below show the Door Panel Design, and the placement of the Front Bench Seat. Keep in mind, it is an ongoing Work in Progress....so please check back for ongoing updates!