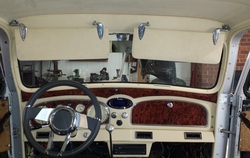 It is a beautiful day in North Carolina! We hope you are enjoying it!
Here are some updates on the 1934 Cadillac interior. The Front Area of the '34 interior includes the Dash and Radio Bracket, which are covered with Vanilla Italian Leather. This view also shows the Sun Visors, covered in Vanilla Ultrasuede, & accented with Vanilla Italian Leather.
Below, are views of the Rear Interior, with Close Up Photos of the Rear Window Trim, Rear Lighting, and Antique Hand Pull.


Please continue to check back for updates!