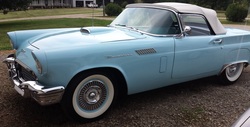 If you are in the market for an OEM Thunderbird...this is the ONE you want!!!

This car is an all metal, frame-off restoration. Original motor, 4-speed in the floor. New convertible top. Verified all wiring & gauges. Re-aligned doors, hood, & trunk for proper fit. Carbeurator is brand new. New window regulators. Installed OEM Style upgraded radio system & speakers. Ventilation system restored. Restored lighting system. Glove box & latches new. New horns. ...etc. etc. etc.

Contact us if you are interested in this Cruiser's Classic. Serious buyers ONLY please.