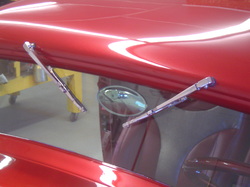 The New wiper system has been installed! The
Specialty Power Window Wiper Kit
is exactly what this coupe called for. The engineering of this system is great for tight confines of this Outlaw 34 Chevy. With very limited mounting possibility's behind the dash, this self contained drive system is easily adaptable to in shop designed mounting brackets. While there are limitations to the amount of bend to the drive cable containment tubing, this system allows for a variety of layouts that are sure to cover your exact requirements. This 34 Chevy did provide some unique challenges though. This 34 had already had a wiper system installed and the pre-drilled locations for the wiper transoms were "interesting". Due to the Cast of the Glass body the aluminum Housing for the drive cable had to be ran outside the a pillar instead of through it. This will require new Garnish molding to be fabricated to conceal the tubing. The transoms are a lot smaller than the individual motors that were previously installed and will allow for a fabricated cover to include some "needed" overhead stowage.
Stay tuned, the next install is of a
Dakota Digital
Cruse control system.