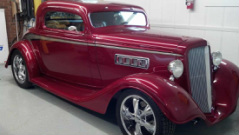 Yesterday we began the "physical demolition" of the 1934 Chevrolet Coupe. Below, you can review some shots of the Vehicle PRIOR to Disassembly.
Enjoy the Deconstruction of this Beautiful Car!
We accomplished quite a lot!....We removed the Door Panels, Window Trim, Windshield & Garnish Mouldings, UnderDash Trim & Panels, Kick Panels, Front Carpets, Seal Plates, Center Console, Metal UnderDash A/C Vent Panel, All associated Wiring Components, Dash, Gauges, A/C Ducting, Dropped the Steering Wheel, & Removed the Front Headliner Panel, the two Windshield Wiper Drive Motors, Wiring-to-Drive-Motors, & the Front Speaker/Tweeter System!
Wheeew!
The '34 Chevrolet Coupe is now prepped to fabricate the mounting brackets & install the Specialty Power Window Wiper System.

Please check back for ongoing updates on this intensive upgrade!