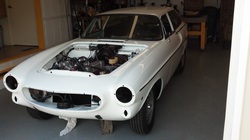 Today the customer delivered his white 1972 Volvo 1800. The workmanship on this car is outstanding! It has been completely restored down to the new lizard skin ceramic heat and acoustical spray-in-barrier system. The car was delivered on a roll-back, as the customer is awaiting new fuel injectors to make the pristine engine PURRRRR! While here, our customer reviewed the progress on the seats. He was quite pleased with what he beheld. This interior will complement the body of the car beautifully and is really going to POP!
We contacted the supplier for the dash light bulbs & sockets for the '67 Plymouth Barracuda. We are working to a solution on the odd-sized bulb sockets...Looking forward to installing new headers on the beast of a 360 engine in the 'Cuda.
Stay tuned for more Volvo & Barracuda Updates!...