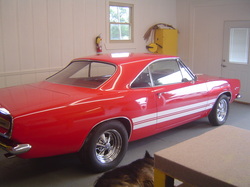 This is our next project car. This 67 'Cuda belongs to Mike Carswell of Dudley Shoals, NC. This car has quite a history! Mike's Aunt bought this car brand new, off the lot, and drove it for years. When Mike got old enough to drive he purchased this car from her, and drove it to High School and then to College (NC State)!! But a Time came when he had to separate from his "faithful friend" and sell it. For years he wondered about the car, because of the great memories it held. This is even the car he drove when he was dating the woman who would become his wife! So, as you can see, it holds a lot of fond memories of his youth.
Several years ago, he received an unexpected phone call from a gentleman who had just restored a 67 'Cuda. He told Mike, the reason he was calling ...he had found a piece of paper with a phone number on it, as the car was being dismantled. He was inquiring if Mike was the original owner of the car, and if he would like to see the current restoration. What do you think Mike said??? He drove to the restoration shop and beheld his "old friend!" The 67 'Cuda had received a complete frame off restoration. The original 273/273 engine had been replaced with a new 360, new Bright RED paint, new interior, new...etc. etc. The gentleman realized Mike had found his "long lost friend," offered it to him for a special price, and What do you think happened???
Our job...to tighten, freshen, prep, tweak, and polish in preparation for its next show. There will be photos added as we progress.
Stay tuned.....